The phenomenon of electromagnetic interferences
Depending on the kind of coupling of electromagnetic disturbances the phenomenon are divided into two different groups. In case the disturbance signal is air-borne one speaks of radiated interference while in case of disturbance signals are line-carried one speaks of conducted interference.
Where the coupling is radiation
Stationary and non-stationary radio transmitters (Electrical Field)

Both stationary high-power radio transmitters and non-stationary walkie-talkies or mobile telecommunication devices operating in the immediate vicinity of systems or equipment lead to uncontrolled electromagnetic radiation into vulnerable electronic equipment.
Parameters: Narrow-band, continuous electromagnetic interference (modulated).
Standard reference: IEC/EN 61000-4-3
HV power supply transmission lines (Magnetic Field) 
In the close vicinity to these lines high magnetic fields can be generated and coupled into other electronic or electrical systems.
Parameters: Narrow-band with 16 2/3Hz or 50/60Hz, continuous electromagnetic interference
Standard reference: IEC/EN 61000-4-8
Indirect lightning effects (pulsed Magnetic Field) 
Lightning strokes into HV voltage power distribution systems are causing high electromagnetic fields which are able to cause induced voltage in any low voltage distribution system, such as power mains systems. Also telecom networks, due to the extended distribution of cabling, are threatened by indirect lightning effects.
Parameters: Range of voltage some tens of kilovolts, range of current some hundreds of amps, high-energy pulses with rise times in the microsecond range.
Standard reference: IEC/EN 61000-4-9
Where the coupling is conduction
Inductive load switching results in Electrical fast transients (burst)
Electromagnetic influences produced in the neighborhood by rapid variation of voltage and current as a result of the abrupt change of a switch from a non-conductive to a fully conductive status or vice versa, e.g. switching inductive loads with mechanically moved contacts between which arcing occurs before they separate.
Parameters: Broad-band pulse interference, rise time of pulses of a few nanoseconds, small energy content and high repetition rate.
Standard reference: IEC/EN 61000-4-4
Switching inductive or capacitive loads in power mains supply system
Switching heavy inductive or capacitive loads in low voltage power mains supply systems are causing transients of high energy and high voltage, depending on the installation category.
Parameters: Range of voltage some up to tens of kilovolts, range of current some tens of kilo amps, high-energy pulses with rise time and duration in the microsecond range.
Standard reference: IEC/EN 61000-4-5
Atmospheric discharges such as lightning 
Lightning strokes into high voltage power distribution systems are causing transients in low voltage power mains networks. Via coupling these transients can also be detected in data bus systems, I/O lines and any cabling in the industrial area.
Parameters: Range of voltage some tens of kilovolts, range of current some tens of kilo amps, high-energy pulses with rise times in the microsecond range.
Standard reference: IEC/EN 61000-4-5
Power Mains supply failures 
Voltage dips and short interruptions are caused by faults in the network, in installations or by a sudden large change of load. In certain cases, two or more consecutive dips or interruptions may occur. Voltage variations are caused by continuously varying loads connected to the mains supply network.
Parameters: These phenomena are random in nature and can be characterized in terms of the deviation from the rated voltage and duration.
Standard reference: IEC/EN 61000-4-11
Electrostatic discharge 
ESD occurs when the static electric field between two objects exceeds the dielectric strength of the air between them. The discharge is a complex event involving a local transfer of charge at the point of discharge, electromagnetic near field coupling between the objects involved, induced current flow in the object receiving the discharge and radiated electromagnetic energy from the charged object as well as from the arc of the discharge. All of these phenomenon are capable of causing malfunctions and, in some cases, damage in electronic equipment.
Parameters: The major effects are generated by the discharge current (< 100A) and voltage (< 30kV) with rise times in the nanosecond and even in the picosecond range.
Standard reference: IEC/EN 61000-4-2
Conducted disturbances, induced by radio-frequency fields 
Conducted radio-frequency disturbance occurs from intended rf transmitters affecting cables such as mains supply lines, signal lines or earth connections between different parts of an electrical or electronic systems.
Parameters: The interference signal is a an amplitude modulated or pulse modulated signal, typically in the frequency range between 9kHz and 80MHz, sometimes extended to 230MHz.
Standard reference: IEC/EN 61000-4-6
Harmonic current emission 
With an increasing number of electronic power supplies used in a wide range of products the aim to limit the harmonic current emission has become more and more important. It is a specific interest of the power distribution companies to keep the harmonic current emission to a considerable low level as harmonic current causes unnecessary loading of the power distribution infrastructure. This again may affect both quality and reliability of the power supply.
Parameters: Harmonic currents are measured up to the 40th harmonic of the fundamental. Limits for each harmonic are specified depending on the type of product.
Standard reference: IEC/EN 61000-3-2, IEC/EN 61000-3-12
Voltage changes, voltage fluctuation and flicker 
During an entire duty-cycle of a product sudden voltage changes, voltage fluctuations or flicker might occur. This may effect the quality of the mains supply voltage. Flicker can be visually recognized as the illumination strength of a lamp may drop significantly even for a very short time. To keep such phenomenon to the minimum limits have been introduced for the impact of load variations to the public mains supply network.
Standard reference: IEC/EN 61000-3-3, IEC/EN 61000-3-11
Additional Phenomena – EMC in Vehicles
Apart from the basic phenomena as described here above a wide range of additional requirements can be found for special electrical and electronic systems such as vehicles. These requirements are based on the fact that within a vehicles supply system a large number of sub-systems and components are installed generating interference and at the same time being exposed to interference. Some of the phenomena that can be found on-board vehicles look similar to the ones that are specified in the basic standards of IEC. Some are specific for thes systems.
Many vehicle manufacturers have set up their own EMC requirements for both conducted and radiated immunity and emission testing. These requirements supersede the national and international standards existing for EMC testing on vehicles (e.g. ISO7637, SAE J1113, JASO).
Making conducted and radiated emissions measurements
Did you know that 50% of projects fail EMI/EMC testing the first time? Intertek Testing Services reports that roughly half of products fail the initial EMC test due to a failure to apply EMC principles, lack of EMC/EMI knowledge, incorrect applications of EMC regulations, unpredicted interactions among circuit elements, or incorporation of non-compliant modules or subassemblies into the final product.
Performing pre-compliance testing greatly improves the probability of a successful first pass of full EMI compliance testing, saving you time and thousands of dollars. Companies designing products for medical, automotive, military and even multimedia applications, can benefit from investing in a pre-compliance test setup. This page discusses how adding pre-compliance testing to your product development process can accelerate product development and reduce project costs.
Benefits of pre-compliance testing
If you're developing a product, you're making financial, time, and sometimes, an emotional investment in getting the product to market. The last thing you want is to get held up by compliance testing failures. Incorporating a pre-compliance solution into your work processes provides numerous benefits, including:
Early identification of potential EMI/EMC issues that may delay time-to-market and increase development costs
Reduction of EMI/EMC related costs
Increased confidence in your product before you take it to the test house
Immediate feedback on the impact of design changes
Flexibility to test on your schedule

Take the mysteries out of EMI/EMC test setup
EMI/EMC pre-compliance testing doesn't have to be hard or excessively time consuming. Based on customer feedback, Tektronix developed next-generation software with ease of use and functionality in mind, to provide pre-compliance testing for radiated and conducted measurements.
Setting up EMI/EMC pre-compliance testing starts with SignalVu-PC. This latest version of SignalVu-PC now comes with an additional option called EMCVu. EMCVu features an easy-to-use setup wizard, built-in standards and accessory setup with push-button selection capabilities. Whether you are setting up an Open-Air Test Site (OATS), or testing in your lab, EMCVu streamlines the capture and removal of ambient noise from your measurements to increase the accuracy of your pre-compliance tests without an anechoic chamber.
To learn more about using EMCVu with real time spectrum analyzers and accessories to perform pre-compliance tests for radiated and conducted emissions, download the application note here.
Troubleshooting tips to speed up debug work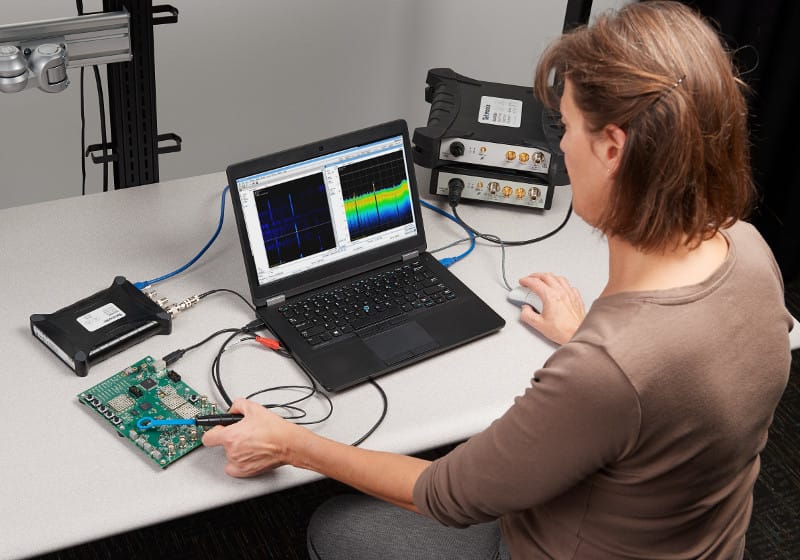 Before you invest the time and money in final product certification testing, you want confidence that your device is ready to go to the test house. When you run into a problem, you want the right tools that allow you to focus on problem areas quickly, identify the cause and take steps to remediate without incurring costly delays.
To efficiently debug, look for a solution that lets you quickly identify areas of concern and provides the level of signal insight that captures intermittent offenders. This is delivered by a combination of hardware and software.
Some of capabilities you should look for in your software solution include:
Quasi-Peak detector which lets you bypass non-failures and zero in on frequencies of interest.
Harmonic Check which allows you to test only specific harmonics and find where those emissions come from on a board using a near field probe.
Harmonic Markers which enables finding emissions at harmonics of a known frequency.
Multiple Traces allowing you to compare the Device Under Test (DUT) to Ambient Noise, previous iterations of a Device, etc.
Automated or manual multi-failure re-measurement, allowing you to determine if a failure is intermittent or reoccurring.
Report multiple measurements in multiple formats in the same user configurable report.
With hardware, Real-Time Spectrum Analyzers make EMI debug much easier. Some of the benefits provided by a real-time spectrum analyzer include:
The ability to capture transient and intermittent signals.
The ability to debug multiple sources at the same frequency.
Instantaneous feedback – traditional swept spectrum analyzers sweeps can take longer and result in failure in capturing important signals.
To learn more on how to use our Real-Time Spectrum Analyzers for emissions pre-compliance testing on our blog here. Additional information on troubleshooting techniques are available in the "Practical EMI Troubleshooting" application note that you can download by clicking on the button below.
DOWNLOAD APPNOTE
Standards supported by Tektronix EMI/EMC pre-compliance solutions
Tektronix' EMCVu pre-compliance software supports EMC standards including CISPR, FCC and MIL-STD for many types of devices. To automate testing, EMCVu provides a built-in standards table allowing you to choose the applicable standard for your product and the region it will be sold in. EMCVu also allows you to configure standards not included with the ability to set frequency ranges or limit line tables for your chosen standard.
A quick summary of supported standards is below:
MARKET SEGMENTS
Equipment Type
STANDARDS
IEC/CISPR
CENELEC/EN
FCC
MIL-STD
DEF-STAN
ISM MEDICAL
Industrial, scientific and medical equipment
CISPR 11
EN 55011
CFR Title 47 Part 18
 
 
Medical electrical apparatus
EN 60601-1-2
AUTOMOTIVE
Vehicles, boats and internal combustion engines
CISPR 12
EN 55012
CFR Title 47 Part 15(*)
 
 
Components and modules on board vehicles
CISPR 25
EN 55025
 
 
 
MULTIMEDIA
Sound and TV broadcast receivers
CISPR 13
EN 55013
CFR Title 47 Part 15
 
 
Information technology and telecommunications equipment (ITE)
CISPR 22 (superseded by EN55032)
EN 55022 (superseded by EN55032)
Professional audio/video/multimedia equipment
CISPR 32 (replaces CISPR 13 and 22)
EN 55032
APPLIANCES
Electrical devices, household appliances and tools
CISPR 14-1
EN 55014-1
CFR Title 47 Part 15
 
 
LUMINAIRES
Fluorescent lamps and luminaires
CISPR 15
EN 55015
CFR Title 47 Part 15
 
 
MILITARY
Military equipment and systems
 
 
 
MIL-STD-461G
DEF-STAN 59-411
A complete pre-compliance solution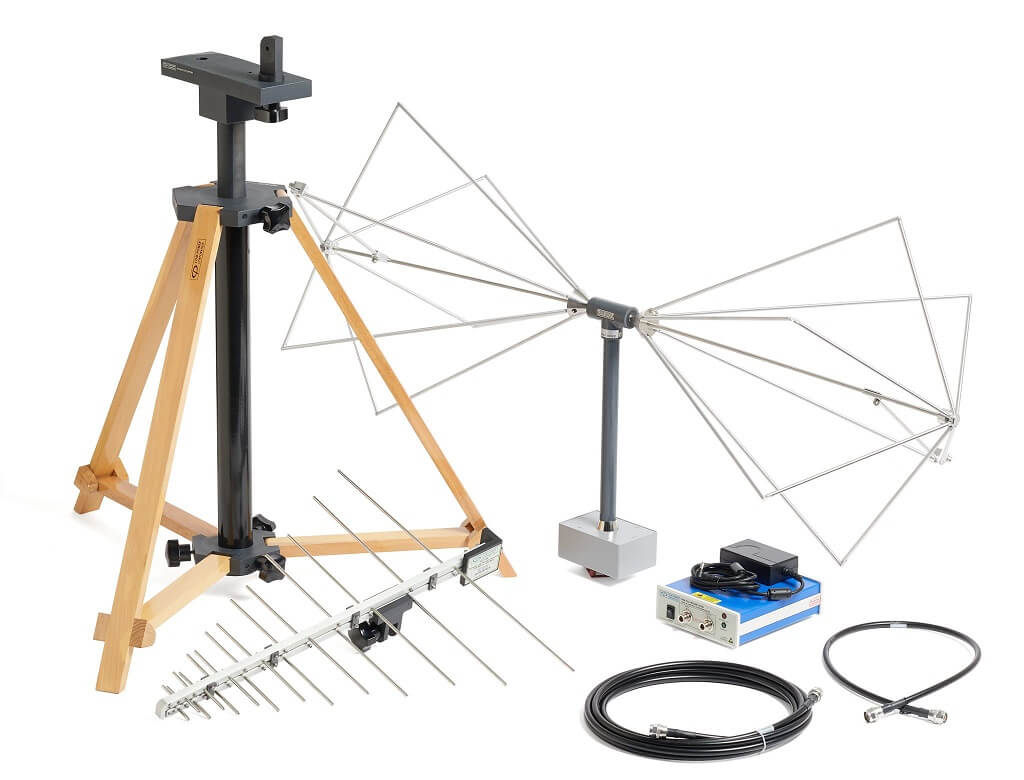 To affordably speed you on your way, Tektronix offers a complete EMI/EMC pre-compliance testing solution including software, spectrum analyzers, accessories and probes.
Software
Tektronix EMI/EMC pre-compliance solution starts with SignalVu-PC with EMCVu software. As a plug-in to SignalVu-PC, EMCVu provides a single user interface for all your pre-compliance needs.
Spectrum Analyzers
To provide fast, accurate measurements to assist you in finding EMI/EMC issues quickly, Tektronix offers a full line of affordable Real-Time Spectrum Analyzers. Real-Time Spectrum analyzers provide significant advantages over traditional swept enabling you to capture infrequent EMI bursts.
Accessories
To avoid accessory mismatch, Tektronix offers fully validated accessories including antennas, Line Impedance Stabilization Networks and pre-amplifiers. You can purchase accessories individually, or in two comprehensive accessory bundles for conducted and radiated tests. Characterization of accessories including Gains and Losses values are pre-loaded into EMCVu to provide simple set-up and greater accuracy in your measurements.