Tektronix TDP1500 1.5 GHz HV diff. Probe
Price on request
1.5 GHz Differential Probe with TekVPI™ Probe Interface
Tektronix TDP1500 1.5 GHz HV diff. Probe
Differential active probes provide truer signal reproduction and fidelity for high-frequency measurements. With ultra-low input capacitance and versatile device-under-test connection capabilities, the TDP1500, TDP3500 and TDP4000 Differential-ended Active probes provide excellent high-speed electrical and mechanical performance required for today's digital system designs.
Key performance specifications
4 GHz (TDP4000), 3.5 GHz (TDP3500) and 1.5 GHz (TDP1500) probe bandwidth
≤1 pF (TDP1500) and ≤0.3 pF (TDP3500/TDP4000) differential input capacitance
200 kΩ (TDP1500) and 100 kΩ (TDP3500/TDP4000) differential input resistance
±25 V (TDP1500) and ±15 V (TDP3500/TDP4000) DC + pk AC input voltage (non-destruct)
>60 dB at 1 MHz and >25 dB at 1 GHz CMRR
Key features
Outstanding electrical performance

4 GHz, 3.5 GHz and 1.5 GHz bandwidth models – accurate measurements for serial and digital applications
Excellent common mode rejection – reduces measurement errors in higher common environments
Low capacitive and resistive loading – maintains signal fidelity and reduces DC biasing interactions

Versatile mechanical performance

Compact probe head size for probing small geometry circuit elements
DUT attachment accessories enable connection to fine-spaced SMDs
Robust design for reliability

Easy to use

Connects directly to oscilloscopes with the TekVPI™ probe interface
Provides automatic units scaling and readout on the oscilloscopes display
Easy access to probe comp box controls or oscilloscope probe menu display for probe status, setup control, and diagnostic information

Integrated Scope/Probe system

Direct connection to and powered from the TekVPI™ oscilloscope interface (Connects directly to TekVPI scopes without the need of an external power supply, like many competitors require)
Single-button oscilloscope probe menu access
Setup and control from probe comp box or oscilloscope user interface
AutoZero – zeros out output offset
Remote GPIB/USB probe control through the oscilloscope
Applications
Design, validation, debugging, and characterization of common high-speed serial bus designs:

I 2C
CAN/LIN
SPI
Serial ATA
Ethernet (GbE)
USB 2.0
FIreWire (1394b)

Signal integrity, jitter, and timing analysis
Manufacturing, engineering, and test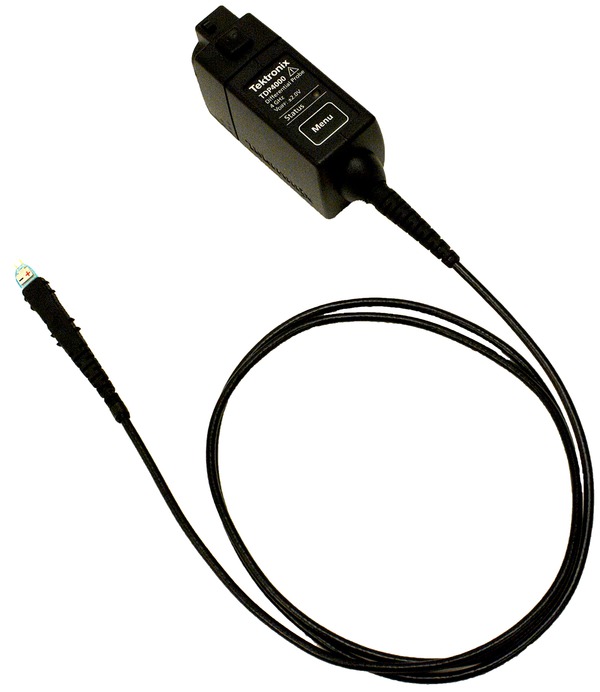 A better measurement tool
Specifically designed for use and direct connection to oscilloscopes with the TekVPI™ probe interface, the TDP1500, TDP3500 and TDP4000 Differential probes achieve high-speed signal acquisition and measurement fidelity by solving three traditional problems:
DUT loading effects – Are reduced by lower input capacitance and high input resistance
DUT connectivity – A variety of accessories exist for attaching to small SMDs, some come standard or recommended
Maximizing of system (oscilloscope and probe) bandwidth – Probing solutions for all measurements for TekVPI interface oscilloscope models up to 4 GHz
For the best probe support, download and install the latest version of the oscilloscope software from http://www.tek.com/software/downloads.
Tektronix TDP1500 1.5 GHz HV diff. Probe
Tektronix TDP1500 1.5 GHz HV diff. Probe
TDP1500 standard accessories
Description
Quantity shipped
Reorder part number
Reorder quantity
Pouch, nylon carrying case with inserts
1 each
016-1952-xx
1 each
Documentation kit TDP1500, includes:
1 each of selected language
020-2866-xx (English with Standard) 020-2891-xx (Japanese with Option L5)
020-2892-xx (Simplified Chinese with Option L7)
1 each of selected language
Printed user manual (071-2209-xx, English; 071-2210-xx, Japanese; 071-2211-xx, Simplified Chinese)
CD containing PDF-only technical reference manual, 071-2296-xx, English
Certificate of traceability
1 each
Standard with probe
1 each
Accessory kit TDP1500 (see contents listed below, 0 through 10)
1 each
020-2702-xx
1 each
Plastic accessory box
1 each
006-7164-xx
—
Straight pins
8 each
016-1891-xx
8 each
Longhorn VIA adapter
2 each
016-1780-xx
5 each
1-inch solder down
1 each
196-3504-xx
1 each
3-inch solder down
1 each
196-3505-xx
1 each
Y-lead adapter
2 each
196-3434-xx
1 each
Micro CKT test tip
3 each
206-0569-xx
1 each
Tip saver
2 each
016-1781-xx
2 each
3-inch ground lead
2 each
196-3437-xx
2 each
Marker band set (2 each of 5 colors)
1 each
016-1315-xx
1 each
Accessory performance summary and reorder sheet
1 each
001-1412-xx
1 each
Recommended accessories
Description
Part number
Quantity
TDP1500
TDP3500
BNC to probe tip adapter
067-1734-xx
1 each
—
Spring loaded grounds
016-1782-xx
1 package of 6
—
TwinFoot™ adapter
016-1785-xx
1 package of 4
1 package of 4
TwinTip™ adapter
016-1786-xx
1 package of 4
—
VanTip™ adapter
016-1890-xx
1 package of 8
—
IC micro grabber
SMK-4
1 package of 4
1 package of 4
IEEE 1394 adapter
679-5027-xx
1 each
1 each
TekVPI™ cal fixture
067-1701-xx
1 each
1 each
Short ground contacts
016-1783-xx
1 package of 10
—